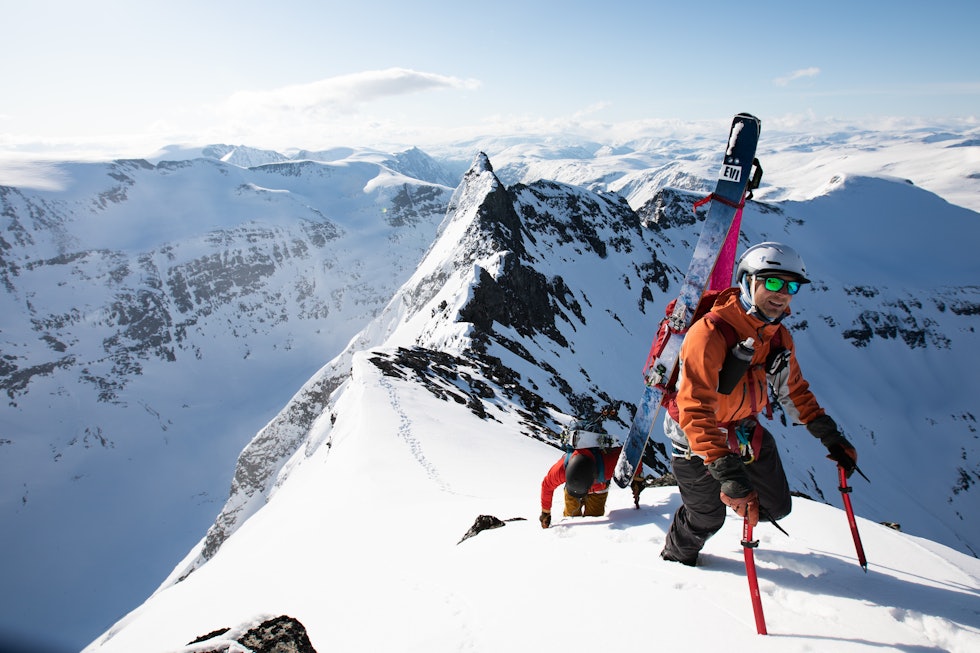 From Oppdal we have a range of mountains within reach. Here you see Søre Trolla in the background! Photo: Tore Meirik
Welcome to one of the biggest, and most significant Nordic conferences related to avalanche safety and outdoor activity, this year to be held at Oppdal 3-5 November.
We are proud and happy to announce this Call For Papers, and encourage everyone, including professionals, researchers, recreationists and affiliates to contribute to this important exchange of ideas and experiences. This bi-annual conference will facilitate an interdisciplinary working space and meeting ground, where we will continue the discussion and development of the discourses within these communities. Join and partake!
The main theme for this year's conference is Responsibility. This is a wide-ranging theme that works as a backdrop for the symbiotic web that intertwines interests and inputs from all the contributing fields. The theme is of essential importance to all approaches to avalanche safety and outdoor activity – and is somewhat what connects us all to A COMMUNITY.
The theme includes, but is not limited to; how amateurs and professionals behave in their recreational practice and activity, the development and communication of avalanche warnings, infrastructural responsibilities such as evacuation and traffic issues, dilemmas of voluntary risk and rescue practices, educational methods and facilitations, as well as the many questions of responsibility that arises as part of the growing availability, commercialization and industrialization of outdoor activity in avalanche prone terrain.
Through a range of presentation formats, Skredkonferansen offers an arena that facilitates direct interaction and open discussions between presenters and audience. You can present posters, at roundtables, or of course through the traditionally preferred presentation on-stage. All interested parties are welcome to contribute; amateurs, professionals and stakeholders. We want an interdisciplinary and contextual dialogue between all parties that bring interesting voices to the ongoing conversation.
SEND US YOUR ABSTRACTS!
The content for the program of this year's conference is decided and structured by the program committee (see bottom).
Do you have any further questions? Do not hesitate to take contact.
Reach us at post@skredkonferansen.no

Deadlines:
Papers, Symposia, Poster presentations and Round-Table Proposals: EXTENDED DEADLINE TO 7TH OF AUGUST! (was 1. july)
Notification of Acceptance: 20th of august 2023  
Procedure:
Please send a proposal for your contribution as an abstract in a word document or PDF. Please summarize your presentation in maximum 700 words (more or less one sheet of A4 paper should be good).
All proposals must include:
·   Author/Presenter Name (s) & Title (s)
·   Affiliation
·   E-mail and Mailing address
·   Telephone number
·   Title and Abstract
Please E-mail your submission with attachments to post@skredkonferansen.no 
Biographical information and the abstract provided will be published in the conference program unless requested otherwise.
Language:
We allow participants to present in Norwegian, Swedish, Danish and English.
Abstracts can be written and submitted in either of these languages. 
Tickets:
Fees / prices:
Conferance fee: NOK 3.000,-
Conferance fee student: NOK 2.200.-
Fee include:
All of the program

Lunch friday and saturday

Coffe/tee, fruits&nuts and free access to the softice machine

Thursday the 2nd of November there will be arranged a workshop by Norskred for the attendants of the conference. This is included in the conference fee.
The committée:
Nortind: Pål Røsrud
NGI: Sunniva Skuset
DNT: Richard Fjellaksel
Norskred: Urpu Hapuoja
CARE: Tarjei Tveito Skille
Røde Kors: Bjørn Midtskog
Fri Flyt: Tor-Erik Moen / Adam Tumidajewizc (teknisk arrangør).